How much will your boerboel cost?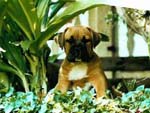 Guarantees:
1. An Afrika boerboel with HD3-3, ED3-3 or worse will be replaced when the displasia status is certified by a Veterinarian. A copy of the x-rays and vet report must be supplied.
2. Vaginal Hyperplasia
3. Meet the minimum requirements for registration 75% he/she will attain at the age of 16 months and above 80% older than two years.
Testing must done before 25 months.
Signed certificate for proof of Euthanasia or spay must be administered by a Veterinarian. The original Birth/Registration Certificate returned. . Afrika boerboels will then replace the pup of the same sex form the next available litter and is not liable for shipment costs involved.

The following conditions is important:

Puppy socializing and basic training is a must for the new owner and also our puppy!
No excessive exercise or jumping.
Lots of love and attention.
Proper nourishment
We recommend Pro Plan, Purina , Eukanuba or Royal Canine Large Breed Puppy.

Afrika boerboels do not replace a boerboel due to injury, malnourishment or obesity.
Afrika Boerboels will not replace a boerboel if he or she has already produced an offspring.

Purchasing an Afrika boerboel you can trust that your puppy was raised in

A loving and caring environment
Vaccinations and deworming up to date
Micro chipped
Raised on Eukanuba Large Breed Puppy
Socialized and taken on road trips
Frontlined against ticks and fleas.

Afrika Boerboels get the best possible start in life and expect from the new owner to continue helping his boerboel to be the best he/ she can be for the familyhe/she will be part of for the rest of his life.


Purchasing a boerboel is only the beginning. You will need to consider food, shelter or bedding (bear in mind that pups often chew their bedding and it will need to be replaced), medical costs (checkups, vaccinations,parasite treatment, unexpected illnesses or injuries) toys and accessories,grooming, boarding and obedience training.